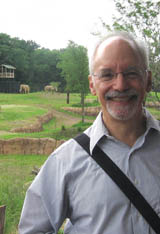 Profile
Zoo Horticulture Consulting & Design (ZHCD) grew from Rob Halpernís career at two of the nationís greatest zoos: the Cincinnati Zoo & Botanic Garden and the Bronx Zoo. Working closely for fourteen years with zoo directors, exhibit designers, animal curators, keepers, operations and guest services staff Rob developed an understanding both broad and deep of zoo operations and zoo design.
A leader in zoo landscape design since 1993, Rob's landscapes, design concepts and exhibit content development for the Bronx Zoo's Butterfly Zone and the Congo Gorilla Forest helped win the zoo the AZA's Exhibit Award in 1997 and again in 2000. These were followed by more
AZA Exhibit Awards
in 2009, 2011, 2012 and 2015. Rob was awarded a Longwood Fellowship in Public Horticulture in 1984 and received a Master of Science in Ornamental Horticulture from the University of Delaware in 1986. As horticulturist for the
Cincinnati Zoo and Botanical Garden
(1987-1992) and Curator of Horticulture at the
Bronx Zoo
(1993-2000), he has been responsible for all aspects of grounds maintenance and landscape design for grounds and exhibits. Since founding
Zoo Horticulture Consulting & Design
in 2001, he has worked with zoos and aquariums
throughout the United States (from Miami to San Francisco, Minnesota to Dallas) and in Europe, Asia and the Middle East
. Rob has lectured and written extensively on horticulture in zoos both to the general public and to professional organizations including the AZA (Association of Zoos and Aquariums), AZH (Association of Zoological Horticulture — on whose Board he served), the AZFA (Aquarium and Zoo Facilities Association) and the APGA (American Public Gardens Association). In 1999, the AZH presented Rob with their Conservation award for his book
Green Planet Rescue, Saving the Earth's Endangered Plants
.